Day 51 through 59: Dolores, CO –  Teec Nos Pos, AZ – Kayente, AZ – Tuba City ,AZ – Grand Canyon Village, AZ – Williams, AZ – Ash Fork, AZ  Seligman, AZ – Kingman, AZ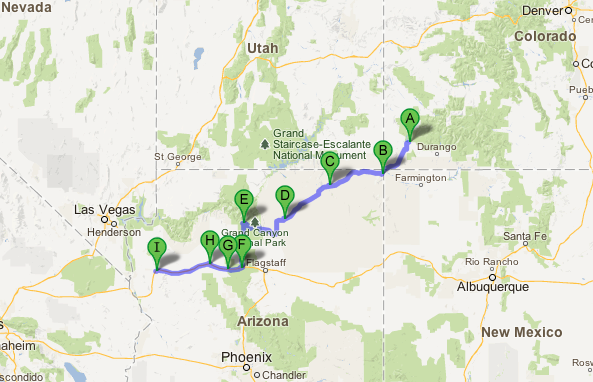 As I exited Colorado, I stopped at the 4 corners monument where, New Mexico, Colorado, Utah, and Arizona meet.  It was pretty anti-climactic actually, I don't know what I expected.  It was cool to stop by and look at, it keeps you interested for about 3 minutes.  And on top of that it costs $3 to enter. I know it's a small fee, but I hate paying a fee to see something that's already outside. Like if you had to pay $3 to look at the Seattle space needle.
Once, I left that monument, I entered northern Arizona shortly thereafter and also entered the Navajo Nation.  And I instantly noticed a huge increase in roadside litter.  And about 80% of said litter was in the form of beer bottles and hard alcohol containers.
As I rode, I thought to myself…perhaps alcholism really is a big epidemic in the native american community.  I originally thought it was a bit exaggerated, despite learning of this problem years ago.
It's as large a problem as I read about.  I even walked past an HR Block in Kingman, AZ and taped to the front door was a notice that stated, "…if a customer is believed to be intoxicated on our premises they will be asked to leave and police will be called".  I was like, "damn". It 'IS' that serious.
I mean, seriously.  There was so many bottles on the side of the road, that it looked like a dump truck drove at a speed of 20 mph, with its truck bed tilted while it just unloaded all of these bottles.  And because these bottles were most likely thrown from cars whizzing by into the desert sand, so many of them weren't broken.
If someone wanted an idea for a side hustle, they could go and clean-up the bottles on both sides of US 160 for about 100 miles.  Take the bottles to California and cash them in, or another state that pays out for recycling.  Some states pay as much as 5 cents per bottle.
###
You can follow along in real-time and spot exactly where I am, as I have a GPS unit that updates a Google map in real-time every few minutes.  To view it, "LIKE" the iHeartCardio Facebook Fanpage.
Also, you may contribute to the American Heart Association which is the cause I'm riding for.  100% of what you donate goes to the AHA.  You may learn more about WHY you should donate. Whether you choose to donate or choose not to, please help SPREAD the word.
Last but not least, I want to thank my equipment sponsors. GoPro and Detours.