Day 60 through 61: Kingman, AZ – Laughlin, NV – Amboy, CA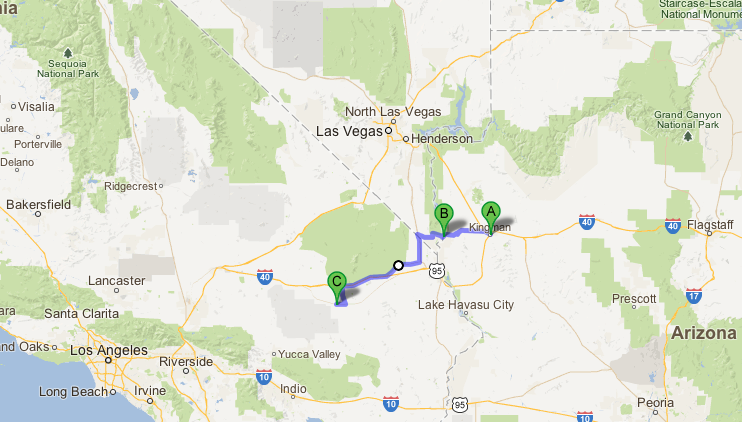 As I exited Arizona, I encountered a mountain range that was unexpected because it didn't show up on my Google map.  On second thought, it wasn't really a mountain range I don't think.  The issue was that the city of  Bullhead City, AZ was at an elevation of approx.  400 feet.  And all the land surrounding it was at 3K+ feet.  So the city was basically just in a valley.  It was real fun entering that city, at about 25 miles of good downhill.  But coming out SUCKED.  Especially since I didn't expect it.
I was so exhausted once I got out of that valley that I decided to skip visiting Las Vegas.  It was a tough decision, because I really wanted to kick it in Vegas for a few days.  But I just couldn't stand the idea of another surprise valley/mountain range like that again.  And besides that, at that point I could definitely start to feel my body breaking-down.  I made the call to B-line to Cali and get this journey done.
###
You can follow along in real-time and spot exactly where I am, as I have a GPS unit that updates a Google map in real-time every few minutes.  To view it, "LIKE" the iHeartCardio Facebook Fanpage.
Also, you may contribute to the American Heart Association which is the cause I'm riding for.  100% of what you donate goes to the AHA.  You may learn more about WHY you should donate. Whether you choose to donate or choose not to, please help SPREAD the word.
Last but not least, I want to thank my equipment sponsors. GoPro and Detours.